EXCLUSIVE OFFERS
Welcome to our apartments in Formentera
Located in a privileged location, just 400 metres from Cala Saona beach
Located in Punta Rasa, Formentera, just 400 metres from the stunning and laid-back beach of Cala Saona, Apartments Punta Rasa Formentera is a complex of 19 bungalow-style apartments, fully equipped with everything you need to truly enjoy an unforgettable holiday on one of the most captivating islands in the Mediterranean. 
Apartments Punta Rasa Formentera boast an outdoor pool, with adults' and kids' area, as well as access for people with reduced mobility. Poolside there's a full playground, table tennis and billiards table.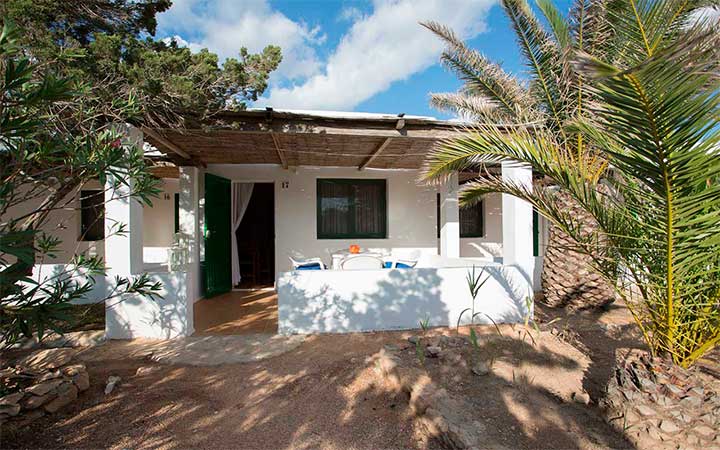 Spacious and serene apartments designed for your relaxation
Our accommodation is split between: Group A apartments, featuring one double bedroom, living-dining room with kitchen, sofa bed, fully-fitted bathroom and terrace; and Group B apartments, featuring one double bedroom, living-dining room with sofa bed, separate kitchen, fully-fitted bathroom and terrace. All are fully equipped and come with bathroom linen, bedding and kitchen utensils. They also include fans and some apartments command stunning sea views. 
Apartments Punta Rasa in Formentera offer guests complimentary WiFi throughout. There is a free public car park close to the complex. What's more, just a few minutes' drive away is the port of Formentera, where you can catch a ferry to the neighbouring island of Ibiza. 
We'll make your holiday an unforgettable memory
We're a small family-run business that has been in the holiday industry for over 30 years. Our own company history reflects the evolution of tourism in Formentera: initially a family destination for the French and Germans and now a much more diversified market.

The demands of this market to provide the best holiday product mean that we are constantly upgrading our facilities and services. What's more, our staff are always ready to meet the needs and requests of our most discerning guests. That's why at Apartments Punta Rasa we provide everything you need to enjoy an amazing holiday with your family, partner or friends in the unique and privileged setting of Formentera.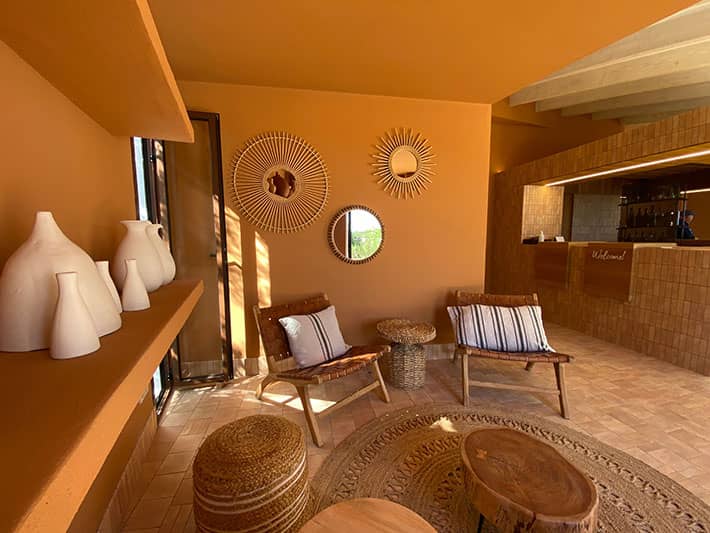 Formentera, a stunning island to discover
The smallest of the inhabited islands in the Balearic archipelago, Formentera boasts a myriad of tourist, environmental and natural attractions just waiting to be discovered: Cap de Barbaria, Es Pujols Sant Ferran de Ses Roques, Es Caló de Sant Agustí, Sant Francesc, La Savina, El Pilar de la Mola, Punta Rasa, to name just a few. A particular highlight is Cala Saona, just a stone's throw from our apartment complex and one of the island's most famous and popular beaches. With crystal-clear waters and fine golden sand, and nestled between two cliffs embraced by lush vegetation, this is a place that seduces everyone who comes here. 
At the reception of Apartments Punta Rasa, you can find tourist information about how to get around the island of Formentera (routes and timetables of public transport, car rental, etc.), as well as a small bar/shop where you can buy everyday items. 
Only by booking your stay on our official website will you benefit from the very best conditions and online rates, without fees or travel agencies. 100% guaranteed!
Holidays in Formentera
The best choice for your holidays in the Mediterranean
More and more tourists and travellers are choosing to spend their well-deserved holidays in an apartment. That's because renting an apartment, among other advantages, gives guests greater freedom and lets them take better control of spending. 
The island of Formentera is the smallest of the inhabited islands in the Balearic archipelago, and together with the neighbouring island of Ibiza forms the so-called Islas Pitiüses, or Pine Islands in English. Formentera boasts a host of cultural, heritage and scenic attractions, and is world-famous for its unique environmental and natural heritage.